Home > Happy Mask Salesman Teases Appearance in Zelda Wii U
Happy Mask Salesman Teases Appearance in Zelda Wii U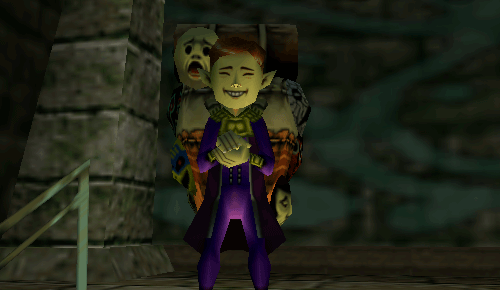 Nintendo recently held a "Miiting"on Miiverse and the Happy Mask Salesman from Majora's Mask 3D took part in it. While a host of information was talked about - one fascinating piece was a mention from the Happy Mask Salesman about maybe showing up in a new Zelda game with new masks. We all know the new Zelda game will be on the Wii U later this year, but we don't know any details about the Happy Mask Salesman appearing in it. Here are the full quotes from the Happy Mask Salesman:
My, my... I've certainly been appearing all over the place these past few days! If this keeps going, maybe it wouldn't be a stretch to expect me to pop up in a new Zelda game, too...? Ho, ho, ho... I've got some new masks, too, if you'd like to try them on... If I do make an appearance, I'm sure everyone will experience such happiness! Believe in your strengths... Believe... Ho, ho, ho...
Don't forget to follow us on Facebook, Google Plus, and Twitter to receive up to the minute updates from us.
Comments:
Link RC on 2015-03-27 09:06:00
Holly mother of God... this guys is scary.

Published on 3/15/2015 2:12:00 PM
Austin Dickson
Category:
Wii U
Label:
Zelda Wii U