Home > Site > About Link's Hideaway
About Link's Hideaway
The site was created January 22, 2008 and already has a decent amount of functionality and content. We currently have several active staff members. Some of our goals here at Link's Hideaway include: game guides, unique content, fan support, and a well structured site that's easy to navigate and easy on the eyes. We hope you enjoy yourself here and continue to come back for updates.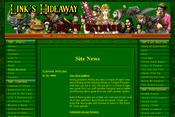 Layout Version 1.2 - A very basic version of this layout was launched a month or so after the site opened. This version, however, did not launch until around June of 2009. It has drop down menus for each game located in the center of the layout. There was also a list of affiliates that when you moused over them an affiliate image would replace the generic one that was present to start with. Several version of this layout were up for around a year.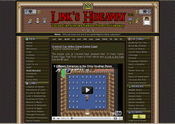 Layout Version 2 - This layout launched August 10th of 2009. Various versions of this layout have been up for several years with another version nearing launch.
Don't forget to follow us on Facebook, Google Plus, and Twitter to receive up to the minute updates from us.