Home > Target Has No Information Concerning the Majora's Mask 3D Limited Edition at this Time
Target Has No Information Concerning the Majora's Mask 3D Limited Edition at this Time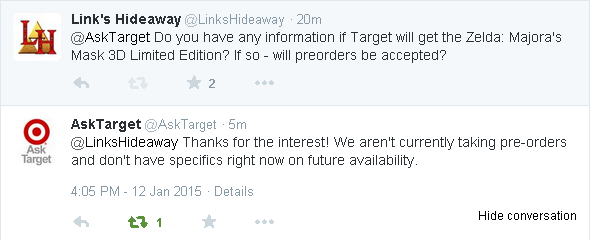 We recently asked Target on Twitter if they would be accepting preorders or selling the Limited Edition Majora's Mask 3D and they answered us. As seen in the image above (or on our Twitter page) - they said they have no information available at this time. This does not rule out the possibility, but it is not looking good at this time.
With the preorder options that did become available selling out in no time - this will surely be a time sensitive ordeal. Majora's Mask 3D is due out in Spring 2015 and will surely be a joyous adventure for newcomers and veterans alike. We will update you should the situation change so stay tuned!
Don't forget to follow us on Facebook, Google Plus, and Twitter to receive up to the minute updates from us.