Home > Melodies of Hyrule Review
Melodies of Hyrule Review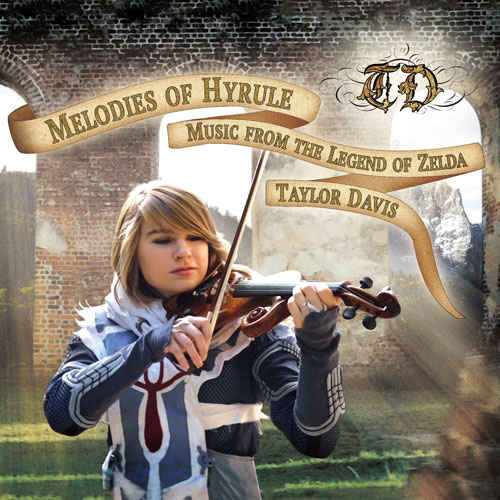 Today is a nice day to write a review. On the back porch, under an umbrella, listening to some arranged Legend of Zelda music as the wind blows. I have just the album in mind, just let me turn off shuffle (hint: this will be important later). Melodies of Hyrule is a Zelda arrangement album by violinist Taylor Davis, and it is indeed one of her finest works. So let's get down to actual tracks, or at least some very notable tacks to my liking...
Gerudo Valley is a grand opening track, which reminds me more of a main theme song rather than a desert theme. It's quite a refreshing take on the song, and one of my favorite renditions. Bolero of Fire is one of the few tracks in this album that seems to hold true to the original track, but that isn't always a bad thing. Although I love the melody of Song of Storms and adore Dragon Roost Island, the next track that truly stands out for me is Kokiri Forest.
Just listen to the track for half a second, and it will undoubtedly stand out to most people. I like the warm feeling the song gives for Kokiri Forest, as the original song holds more melancholy memories for myself. If you know me, you'll know that I listen to music and associate particularly memories to songs. This arrangement is like a brand new song that's full of cheer and a feeling of a cozy home of which to return.
Starting with Nocturne of Shadows the tracks seem to flow nicely together when played in order. I always find myself mesmerized by how nicely the tracks complement each other on this album, I'd prefer to simply group them together as a single package that should always be listened together. Having listened to the album from start to finish several times, I find this to be the most satisfactory way to listen.
Yet another track that stands out to me is Dark World Theme. If you were to add some electric guitar to this track, I'd mistake it for a rocking Ys over world track (small bias, having beaten Ys Seven recently). Since Skyward Sword's theme song Ballad of the Goddess released, I've found every arrangement and remix to be enjoyable. This arrangement is no exception, especially with the piano playing right alongside Taylor's violin. It is a blissful track, and possibly my favorite track of the album.
I'll end my review with Tal Tal Heights and The Legend of Zelda Main Theme. The second "combo" track of the album, and a great combo indeed. To be honest, this was the first track I heard from the album when it released. Even now, it makes me realize why I fell in love with the music from Zelda. This is something I hope the song will always do, and I only regret having the ignorance to keep forgetting. Overall, this album is full of both old and new memories, and having the equivalent to an orchestrated track listing over violin solos is too great for words. It's truly a wonderful experience to be had.
Don't forget to follow us on Facebook, Google Plus, and Twitter to receive up to the minute updates from us.