Home > Symphony of the Goddesses: Simply Magical!
Symphony of the Goddesses: Simply Magical!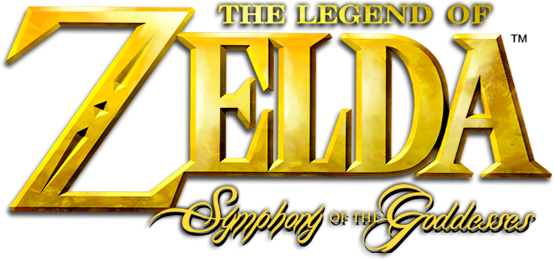 Symphony of the Goddesses is a concert series based on the Legend of Zelda games. Being beautifully arranged classic Zelda tunes brought into an orchestrated environment created a unique experience for all that gathered at the Greek Theatre on June 7th, 2012 during the week of E3 2012 as well as likely every other venue the series has been brought. What made Symphony of the Goddesses just so magical? Well, let me tell you my experience...
The Arrival
After a short ride, we arrive at the Greek Theatre to enjoy a night filled with music based on our beloved Legend of Zelda franchise. Parked and on our way inside when we encounter multiple delays because of a lot of running around to different areas.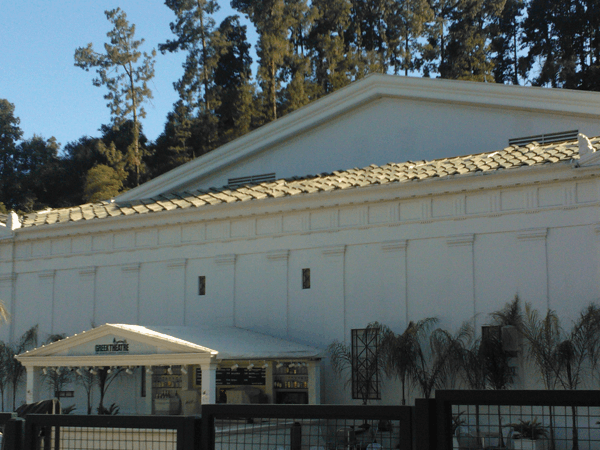 Greek Theatre
Inside the gate and heading backstage to get an inside look of all the cool inner workings of the Greek Theatre when I come across several members of ZREO, who played an important role in the making of Symphony of the Goddesses. After a short relaxing period in a room backstage, I set out to obtain my official ticket to the show which apparently meant walking a short distance down the sidewalk to small building.
Ticket in-hand, I set out to find my seat in the vast amount of rows. Now to head backstage to see all the fun happenings and who shows up? Zelda Williams walks by with producer Jeron Moore, who was showing her around the theatre. Well, time to go downstairs for a quick dinner before heading up for the start of the show.
The Magic Awakens
A mere moment before the show is set to begin and excitement levels are through the roof - or, in this case, the sky. As the sun goes down and darkness grows, a roar of music can be heard coming from the stage - the concert has finally begun!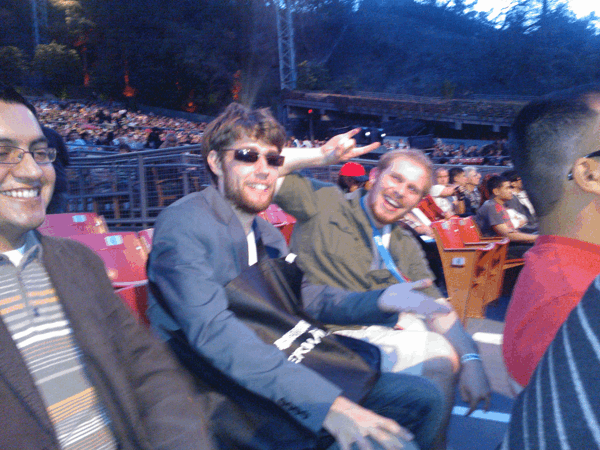 Hombre and Jason from Zelda Universe
As the intro played, thoughts kept racing through my head. "Wow, this is going to be an awesome show!" being amongst the more profound ones and that could not have been any closer to the truth - Symphony of the Goddesses was simply amazing. The music stops, crowd applauding, when a familiar face from before appears on stage - Zelda Williams would be the host for the night.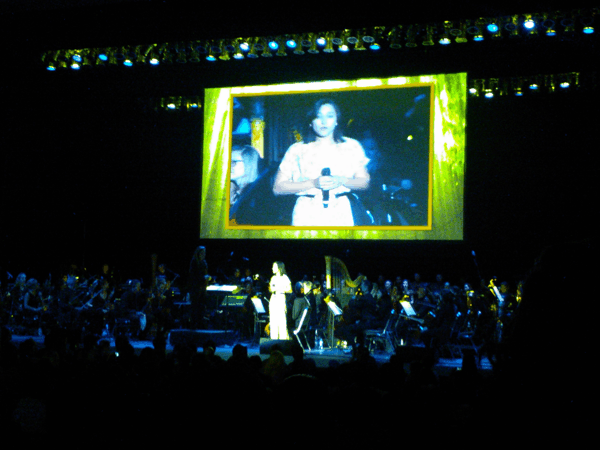 Our Host Zelda Williams
In all its glory, Ocarina of Time takes center stage and sets an eventful night into motion with a splendid musical composition and video presentation, which combined for a purely magical experience – watching as Link journeys through Hyrule in an attempt to defeat the evil Ganondorf. The arrangement was phenomenal and eloquently executed by the musicians as the conductor waved her magnificent baton.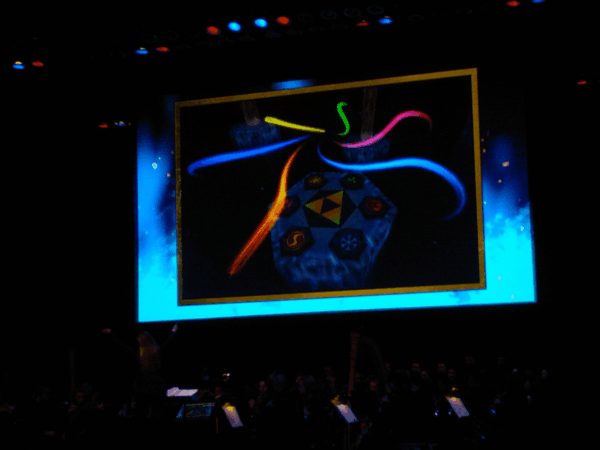 Ocarina of Time
Up next – The Wind Waker takes us through a similar journey filled with whimsical creatures brought to life by the brilliant on and off stage displays. Filled with vibrant colors and ready to tell the story of Link – a boy from Outset Island who has been caught up in a disastrous situation – the video presentation continues and ends as host, Zelda Williams, comes back on stage to deliver an interesting commentary before our brief intermission.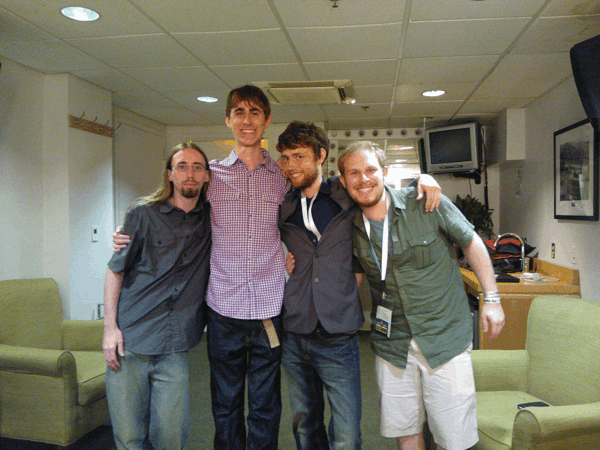 Austin, Noah, Hombre, and Jason Backstage
Back and ready for more – Symphony of the Goddesses continues with Twilight Princess. The movement built up suspense and dashed out bursts of excitement when the triumphant battle music rushed out from the stage towards me – leaving me simply eager for more. Thinking to myself, "Will my favorite game be featured next?" when all of a sudden...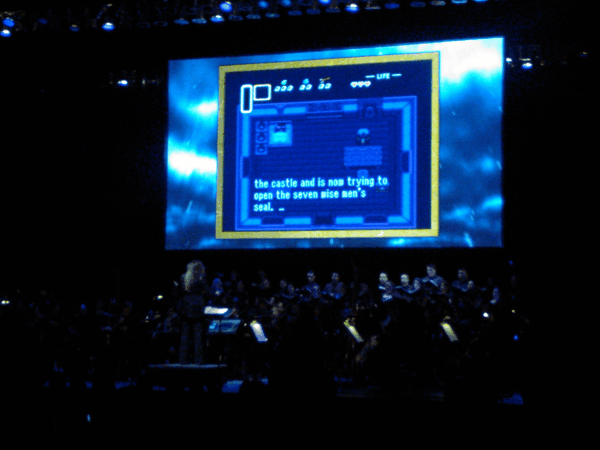 A Link to the Past
A Link to the Past shows on-screen in at its 2D glory – sprites crisp and clear as Link once again sets out on a journey. Bringing fascinating classics into a symphony made A Link to the Past come alive and drew me in to experience all of Link's hardships at his side. "Wow, just wow...Symphony of the Goddesses was pure entertainment packaged into a short time period which just blew me away," I thought, as Zelda Williams walked out on-stage...
The End or Not?
... "I lied," says Zelda when an encore begins moments later. After a total of 3 encores – Majora's Mask being the last – the Symphony of the Goddesses comes to a close. Now heading backstage in order to record a roundtable when we settle on the dressing room filled with lots of mirrors and checker colored walls and Jason, from Zelda Universe, begins to record.
What can I say? The Legend of Zelda: Symphony of the Goddesses was a masterpiece which every fan of Zelda or music should attend. The arrangement was spectacular and the video presentation flawless. The atmosphere created throughout the night was one that I and many more will remember for the rest of our lives – Simply Magical!
Don't forget to follow us on Facebook, Google Plus, and Twitter to receive up to the minute updates from us.
Comments:
robertp17 on 2012-06-20 19:24:00
Sounds fantastic. Looking forward to the one in Orlando next month. Question for you: what kind of merchandise did they have and do you remember the prices? Thanks.

Austin Dickson on 2012-06-20 21:21:00
They had t-shirts, posters, and music books. The t-shirts were $25, posters were $15, and I am not sure about the music books.

chris burnham on 2012-06-29 00:46:00
I wish I could of been their its seemed cool

Samgalagoogoo on 2012-07-28 10:20:00
I wish I could re watch it!