Home > The Legend of Zelda: Tri Force Heroes Launches on October 23 in North America
The Legend of Zelda: Tri Force Heroes Launches on October 23 in North America
Update: We now know that the game will be launching in Europe on October 23, 2015 as well.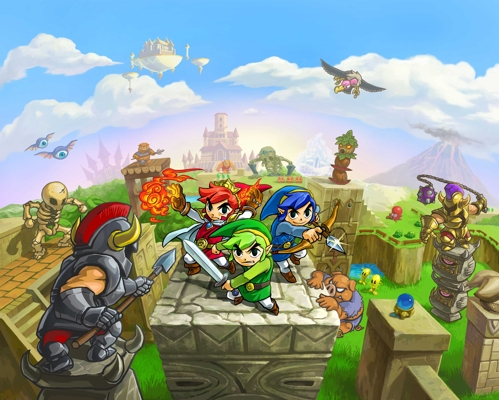 Nintendo of America recently announced the release date for Tri Force Heroes to be October 23, 2015. We also have a new piece of artwork, which can be seen above. We have known for some time that the game would not have amiibo support amongst other things such as no 2 player co-op. Other than the release date and new artwork - no really new details have surfaced yet. We will keep you updated and be sure to check out the press release below...
Nintendo News: The Legend of Zelda: Tri Force Heroes Launches Exclusively for Nintendo 3DS on Oct. 23

REDMOND, Wash.--(BUSINESS WIRE)-- Nintendo 3DS owners looking to embark on a legendary adventure will get their chance when The Legend of Zelda: Tri Force Heroes launches for the Nintendo 3DS family of systems on Oct. 23. One of Nintendo's biggest critical hits at this summer's E3 video game trade show, The Legend of Zelda: Tri Force Heroes lets up to three players team up locally, via Download Play with one game card or online using a wireless Internet connection to cooperatively explore inventive dungeons and battle bosses.

The Legend of Zelda is one of Nintendo's most storied and beloved franchises, selling more than 30 million games in the U.S. alone. In The Legend of Zelda: Tri Force Heroes, up to three players play as Link, with each hero selecting a different outfit equipped with a special boost or ability. One outfit might grant the wearer the ability to shoot arrows, for example, while another could provide more life-saving hearts. A new Totem mechanic allows three Link characters to stack on top of each other to reach higher ground and solve puzzles. The game can also be played solo, allowing one player to rent two paper dolls to take along to complete the legendary team of three.

The Legend of Zelda: Tri Force Heroes is one of many fun Nintendo 3DS games launching between now and the end of the year, including Pokémon Super Mystery Dungeon (Holiday), Animal Crossing: Happy Home Designer (Sept. 25), Chibi-Robo! Zip Lash (Oct. 9) and Japanese sensation YO-KAI WATCH (Holiday).

For more information about The Legend of Zelda: Tri Force Heroes, visit http://www.nintendo.com/games/detail/pjaS5nCJ1sYFb-zGXsyzBQ_dfKQkN2mn.
Don't forget to follow us on Facebook, Google Plus, and Twitter to receive up to the minute updates from us.