Home > Twilight Princess HD Confirmed for Wii U, Coming in March 2016
Twilight Princess HD Confirmed for Wii U, Coming in March 2016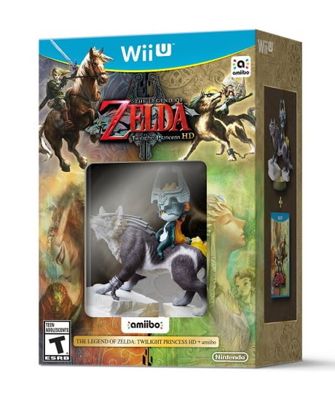 As seen in the image above - Twilight Princess is coming to the Wii U in March 2016 by the name of Twilight Princess HD. The exact date is set for March 4, 2016. The game was confirmed in the latest Nintendo Direct and will come with the Wolf Link amiibo according to the image above, which came from the Amazon listing for the game. We will keep you updated on future information concerning the game and the amiibo, so check back soon!
Don't forget to follow us on Facebook, Google Plus, and Twitter to receive up to the minute updates from us.
Comments:
Left Ventricle on 2015-12-01 19:30:00
The question on everyone's minds is: Will Link be left-handed, as God intended him to be?

Emmington on 2015-12-14 17:15:00
In the picture on the box, it appears that he is.