Home > [UPDATED] Tri Force Heroes Demo Codes Being Sent Out Randomly
[UPDATED] Tri Force Heroes Demo Codes Being Sent Out Randomly
Update 10/15/15: We now have confirmation that the demo codes are being distributed in Europe as well. We will keep you updated on the situation elsewhere.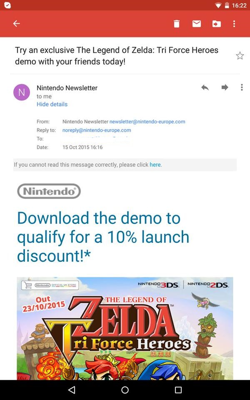 Those who download the demo in Europe will qualify for a 10% discount when they purchase the full game on launch day, so be sure to take advantage of that deal!
Original Story 10/14/15: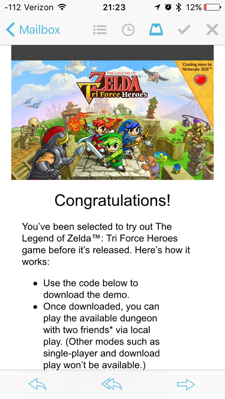 As seen in the image above, Tri Force Heroes demo codes are being distributed by Nintendo to lucky people. It appears to be randomly selected - probably from Club Nintendo members - and includes several codes. It appears to be for the US only for now; however, please comment with confirmation about other regions. The demo only supports local play and not single player or download play. A full transcript of the email is include below...
You've been selected to try out The Legend of Zelda™: Tri Force Heroes game before it's released. Here's how it works:

Use the code below to download the demo.

Once downloaded, you can play the available dungeon with two friends* via local play. (Other modes such as single-player and download play won't be available.)

You can also try out online co-op mode during these hours:

10/16: 5 PM - 10 PM PT10/17: 5 PM - 10 PM PT10/18: 7 AM - 12 PM PT
Don't forget to follow us on Facebook, Google Plus, and Twitter to receive up to the minute updates from us.