Home > UPDATED - Best Buy and GameStop to Cancel Certain Orders of Majora's Mask New 3DS XL in US
UPDATED - Best Buy and GameStop to Cancel Certain Orders of Majora's Mask New 3DS XL in US
Updated 1/23/2015 8:15PM ET: Best Buy is still cancelling preorders so keep an eye out of your email. Our very own preorder was cancelled due to overselling of original preorders. We only had 1 preordered so it is not just for those with multiples preordered. No one seems to be safe at this point; however, they are offering a $50 promotional code. Here is an image of our very own cancellation email that came in roughly 45 minutes ago: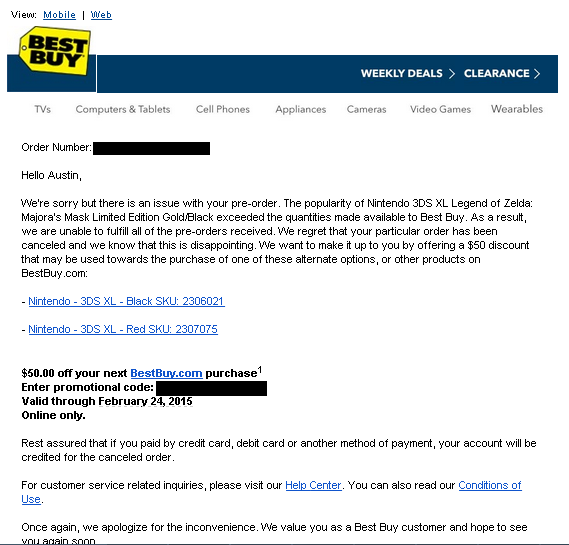 Updated 1/23/2015 12:47PM ET: GameStop is taking a limited amount of preorders in-stores today. They are divided by region to give more access across the country. You will have to pay in full just like previously and not all regions may get supplies.
Updated 1/18/2015 4:50PM ET: GameStop customer service said that we have until Monday to pay in full for the order. They recommend changing the payment method to a gift card or credit card if you paid with PayPal as they had issues with some PayPal payments. They stated that no limit per household existed and that some people have 5 preorders for this item. This information comes from their 1-800 number as several local stores had no information about this.
Updated 1/18/2015 3:27PM ET: Our local Best Buy confirmed that they oversold the stock and are cancelling some preorders due to this. We will keep you updated as the situation develops.
Original Story: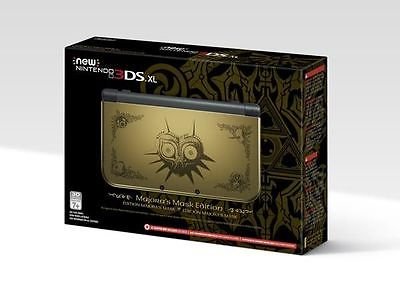 The limited edition Majora's Mask New 3DS XL has been a hot commodity since it was announced a mere few days ago. Preorders have all but sold out at all locations where they were available in the US. We are now hearing reports that both Best Buy and GameStop will be cancelling certain orders of the bundle, which will allow for additional preorders and sells at a later date. GameStop is said to be cancelling any orders that are not paid for by the end of Monday. This does not pertain to all preorders - simply those who got processed when their payment system was offline. They should be contacting you if this was the case with your order. So on Tuesday - they may have more preorders available...
Best Buy is cancelling orders of more than 1 of the items as they are limited to 1 per person. They are also cancelling those who were late to order due to them overselling their allotted stock of the item. This means they should have more available in the near future, if they do not hold them back for in-store sales. Keep in mind that none of this has been 100% confirmed; however, we will be reporting any information we receive so be sure to check back.
Don't forget to follow us on Facebook, Google Plus, and Twitter to receive up to the minute updates from us.
Comments:
... on 2015-01-17 15:37:00
Source?

Austin Dickson on 2015-01-17 15:50:00
We have gotten emails from various readers. None of it can be confirmed 100% at this time as stated in the article. We will update the article when we have more information.

Xeno87 on 2015-01-18 06:55:00
Lol so fake. Hope you go far with your site- no sources and clickbait is just the way to do so!

lol on 2015-01-18 07:06:00
This is false. Called best buy and they are not doing this.

Nunya on 2015-01-20 07:20:00
Actually they are doing this, I work for GameStop and have a friend that works at Best Buy. They are refunding for quantities more than 1. They don't want asshole scalpels to sell 15 extra for $800 a piece.

Emi on 2015-01-21 14:41:00
This is true. Best Buy just canceled my 2nd order, which was for my boyfriend. But that's OK, I have my original order.

Jay on 2015-01-21 15:04:00
A co-worker of mine got the same email this afternoon. They canceled his second copy as well. It is true.

OPP on 2015-01-21 15:34:00
This sucks, they canceled my second 3ds order :(

Joe on 2015-01-21 17:06:00
Yep ... Got my 2nd order canceled today. Oh well, I got one :)

Lisa on 2015-01-23 16:16:00
I only ordered one 3ds and still got my order cancelled. I'm so upset :(

magusxp on 2015-01-23 16:45:00
I ordered one and got cancelled

Midna on 2015-01-23 16:56:00
Yeah I ordered one and it got cancelled, and I ordered it the day it was announced. I am beyond furious.

Alexie on 2015-01-24 06:14:00
After reading on Zeldainfromer that game stop was doing in store pre orders . I legit left work in a hurry and got in just on time . 5 min after my pre order went through , they stopped it ( northeast ) . I'm glad they did this . So many people had like 5+ preordered to put up on eBay . Thank you GameStop !

Brent on 2015-02-01 11:30:00
I ordered one from BestBuy and they canceled mine with the same $50 consolation email. This is bullshit. I'm not pissed at BestBuy, I'm pissed at Nintendo for only making 10 of things. Every pre-order has sold out in minutes. I understand limited edition but it being almost impossible for people to get one is stupid.

I will skip the New 3DS entirely if they don't make more of these. I don't give a shit about Xenoblade (the only New 3DS-only title announced so far) anyways. I was only buying this New 3DS because it is the Zelda edition.