Home > Limited Edition Majora's Mask New 3DS XL Launches February 13 in North America
Limited Edition Majora's Mask New 3DS XL Launches February 13 in North America
Update 1/14/15 6:35PM ET: Best Buy has opened up preorders. Sold out in roughly 1 hour!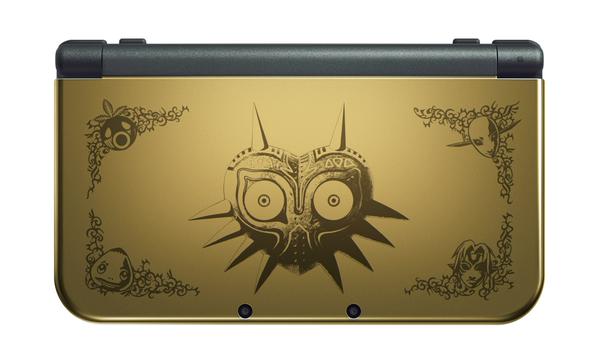 Alongside Majora's Mask 3D's launch - a Limited Edition Majora's Mask New 3DS XL will launch on February 13th in North America. It features a golden color and can be seen in the image above and will not include the game. The New 3DS will not include an AC adapter; however, all previous DSi and 3DS AC adapters will work with it. It is priced at $199.99 and available to preorder from GameStop here is sold out online and likely in-stores as well! This does not appear to be a GameStop exclusive item so check with other stores as well. Be sure to stay tuned for more information on everything Zelda!
Don't forget to follow us on Facebook, Google Plus, and Twitter to receive up to the minute updates from us.