Home > EXCLUSIVE: Interview with Melodies of Hyrule Mastermind Taylor Davis
EXCLUSIVE: Interview with Melodies of Hyrule Mastermind Taylor Davis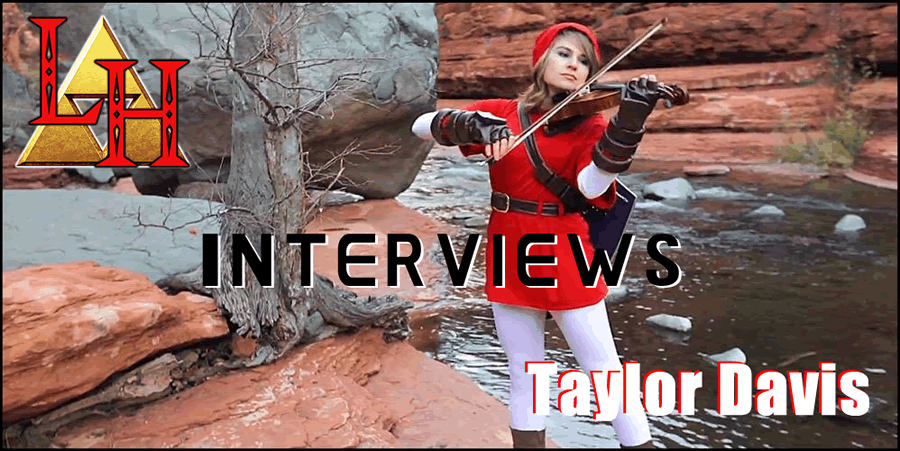 We recently had the opportunity to ask violinist Taylor Davis a few questions. For those unaware - Taylor Davis is the artist behind video game albums such as Melodies of Hyrule. Melodies of Hyrule is an original album featuring remakes of many iconic Zelda tunes such as Gerudo Valley and Zelda's Lullaby. Well, lets get right down to the interview...
Many of the staff loved your Melodies of Hyrule album as did I. Several of the tracks featured songs from Ocarina of Time – was this intentional from the start? Was this game very influential to you becoming a video game musician? Childhood?
Thanks a lot! Yes I purposely chose a lot of songs from Ocarina of Time since that is actually one of my all time favorite video games. I've played a number of games in the Zelda series but Ocarina of Time had the most influence on me, especially from a musical standpoint. There are so many themes from that game that stuck with me from childhood to adulthood and I'm so glad that I had a chance to perform them in a new way for this album.
We just had to ask – what videos games defined your childhood? For me it was A Link to the Past and for many others it would have been Ocarina of Time. What was the first Zelda game you played and how did this impact your video gaming life?
The games that most defined my childhood were Final Fantasy VII, Ocarina of Time and Chrono Trigger. I played a ton of other games that I also loved but those were the ones that probably had the most impact on me. The first Zelda game I played was A Link to the Past and although it wasn't my favorite Zelda game I've ever played, it still got me hooked on the series.
When you are arranging new songs – do you attempt to make it your own interpretation or keep as much of the original song as possible? We understand this can vary song to song – how do you pick which songs you want to stay true to the original?
It definitely depends on a few different factors, but for the most part I really enjoy putting a different spin on it without straying too far from the original. I feel like if people want to listen to the original song exactly the way they're already familiar with then they'll probably just go and listen to the original soundtrack, so it's fun to do something that's a little bit unexpected and hopefully it's something that people end up enjoying in addition to the original.
If you were born when the modern violin just began to take off – how would you view the instrument compared to today? That is – how do you view the classical violinist compared to a more modern violinist such as those from the band Kansas?
I feel so blessed to live in the time period that I'm currently living in and I know that I have so many more opportunities today than I would have if I had been born any other time, and it's really exciting to be a part of a newer emerging style of music. I grew up playing mostly classical music and I have a ton of respect for those types of musicians, but I personally never felt very passionate about that style of music and I think there are a lot of other musicians out there in a similar situation where they love playing an instrument but not necessarily in the classical sense. What I'm doing now with video game, film and other modern music is pretty much a dream come true for me because this is the type of music that I'm the most passionate about and interested in.
We have one final question – do you plan to write another album based on the Zelda franchise? If so – what game do you think will have more music on it or do you think it will be more equally divided? Have you ever thought about creating a unique Zelda-inspired album that has the feel of Zelda but not any actual songs from any of the games?
I'm so grateful that the response to my first Zelda album was overwhelmingly positive so it's definitely something I would consider. There is still so much amazing music to work with from the other games in the series so I've thought about it a lot. I don't think that I'll write any sort of specific video game inspired albums because I do write my own original music too and the style that I write in is actually similar to what you might hear in a video game soundtrack, so I kind of just let the overall influence of video game music inspire me when I write my original music.
We would like to thank you once more for taking the time to do this interview and I look forward to any of your future Zelda-inspire or otherwise works. You are a talented violinist and a wonderful person. Have a good day!
Thank you so much and I really appreciate you taking the time to do this interview with me! I hope you continue to enjoy what I release :)
Don't forget to follow us on Facebook, Google Plus, and Twitter to receive up to the minute updates from us.