Home > Red Bull Features the History of Handheld Zelda Games
Red Bull Features the History of Handheld Zelda Games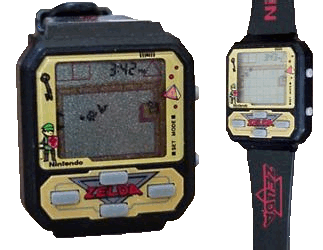 The Legend of Zelda Game Watch pictured above was released by Nelsonic in the US during the year of 1989 and Europe around 1992. The watch has been featured in a Red Bull article regarding the history of Zelda. The watch looks pretty cool in my opinion - let us know yours after the break...
Released in 1989, the Zelda Game & Watch was one of the final big-name entries in the series before the Game Boy arrived and rendered solo LCD portables largely redundant. Even so, it remains an impressive achievement: the side-scrolling action gameplay was divided between the upper and lower screens, with the top display also holding a inventory section. Around the same time, Nintendo licensed the Zelda name to American firm Nelsonic, which produced a wrist watch edition of Zelda that crams in top-down hack-and-slash gameplay more akin to the full-blown NES title. Got one gathering dust on the shelf? Collectors are now snapping them up on eBay for more than a few rupees.
Don't forget to follow us on Facebook, Google Plus, and Twitter to receive up to the minute updates from us.