Home > Spoiler: More Detail Surface for Renting Items in A Link Between Worlds
Spoiler: More Detail Surface for Renting Items in A Link Between Worlds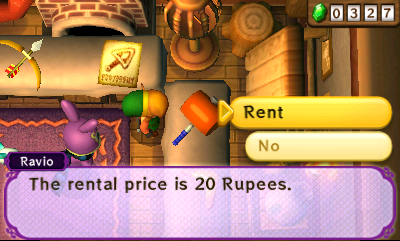 Spoiler: Something we already knew about A Link Between Worlds was the fact you can rent items; however, we did not have much information about how the buying of items would work. Well, according to Kotaku an item that cost 50 rupees to rent will cost 400 to buy - a price that is 8 times the rental price. So will each item follow the same ratio? We don't know for sure yet...
About a few hours in, the game allows you to buy Ravio's items. Something that cost 50 Rupees to rent will cost 400 to buy. You can buy items you don't need yet, but you won't lose them if you die. You can also upgrade items to make them more powerful.
Another interesting piece of information is the fact that you can have more items then required for the area of the game you are currently traversing - meaning you can access more places then needed during the time. This leads to you being able to more aggressively run through the game.
See, they've paired this new system with the removal of any wallet limitations. You can start collecting and hoarding in-game Rupees/money immediately. With that cash, you can rent many more items than you would ever have early in a Zelda game. You don't need most of them right away. Each dungeon that I've played - four so far - only seems to require one new one at a time. But if you start running around with a bunch of items you don't need yet, you'll be able to access a lot of otherwise inaccessible areas. In other words, if you rent items early, you'll be ahead of where the game needs you to be and the game is fine with allowing that. You can succeed more quickly.
Worried about showing up at a dungeon with the wrong item? Well, you shouldn't be - the game allows you to quickly travel back to Ravio's Shop to get the item you need as well as early dungeons having an icon that shows you which item is needed.
What happens if you show up at the dungeon with the wrong one? It's not much of a hassle. Early dungeon entrances are marked with icons that indicate which item you'll need in the dungeon. Fast-travel options let you quickly get back to Ravio's shop to grab the object you need.
So what do you think of the new or old details about renting items in A Link Between Worlds?
Don't forget to follow us on Facebook, Google Plus, and Twitter to receive up to the minute updates from us.