Home > World of Warcraft Composers Cover Bands Debut Album Features Zelda's Lullaby
World of Warcraft Composers Cover Bands Debut Album Features Zelda's Lullaby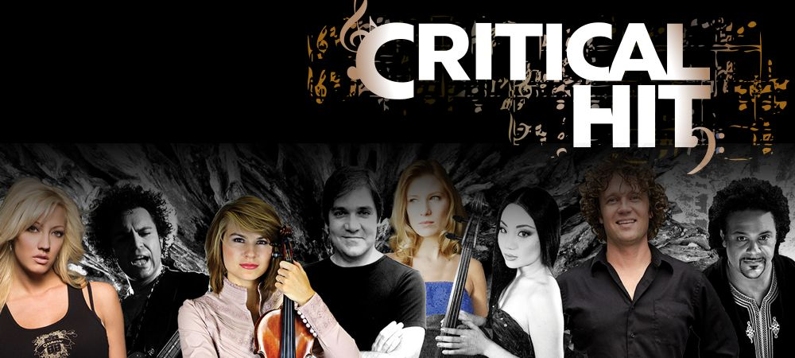 World of Warcraft Composer leads A-list game cover band, Critical Hit, and their debut album - Critical Hit: Volume One - has an interesting Zelda piece from Ocarina of Time 3D that you probably have heard: Zelda's Lullaby. While we don't have the song itself for you to hear - we do have their first music video and it is a delight to the ears. Be sure to check it and the full press release after the break.
Critical Hit: New Videogame Music Tribute Band Featuring Top Industry Talent


Renowned videogame composer Jason Hayes performs gaming's greatest hits with debut album now available for pre-order



Los Angeles, Calif. - October 25, 2013 - Today marks the announcement of Critical Hit, an all-star band headed by composer Jason Hayes - best known for his work on the acclaimed World of Warcraft soundtrack - and featuring award-winning performers and recording artists with a staggering list of videogame, film, and live performance credits, including The Annual Primetime Emmy's, Cirque Du Soleil, American Idol, and more. Critical Hit is pleased to announce their debut album, Critical Hit: Volume One, and release their debut music video, featuring the main theme of Angry Birds.

View the video here: http://youtu.be/NIqYigedtfc

Critical Hit: Volume One will ship on October 31, featuring 12 electrifying arrangements of gaming's greatest hits. Tracks from World of Warcraft, Super Mario World, The Legend of Zelda, The Elder Scrolls V: Skyrim, Halo, Final Fantasy, Call of Duty, Metal Gear Solid, and more are presented in a wide variety of musical styles from rock to classical and beyond.


Musicians Hall of Fame inductee David Frank Paich, pianist of the legendary band Toto and co-writer on hit titles Africa, Rosanna, and Hold the Line, is featured on the album.

Critical Hit: Volume One and branded merchandise are now available for purchase on the band's official website. Those who pre-order prior to October 31, 2013 will receive their items personally signed by Jason Hayes: http://www.criticalhitband.com

"Playing in bands was a big part of my life before I became a full-time composer," comments Critical Hit founder Jason Hayes, "so it's awesome to be able to return to live performance, while exploring my favorite videogame themes with such amazing and accomplished musician friends. The best part is connecting with people who are as passionate about videogame music as I am."

The full track listing for Critical Hit: Volume One is as follows:

01. Tetris: "Main Theme"

02. Angry Birds: "Main Theme"

03. World of Warcraft: "Legends of Azeroth"

04. The Legend of Zelda: Ocarina of Time: "Zelda's Lullaby"

05. Halo 2: "Main Theme"

06. Pokémon: "Main Theme"

07. Super Mario World: "Bowser's Castle"

08. Final Fantasy X: "To Zanarkand"

09. Kingdom Hearts: "Hikari"

10. Call of Duty: Modern Warfare 3: "Battle for New York"

11. The Elder Scrolls V: Skyrim: "Streets of Whiterun"

12. Metal Gear Solid 2: "Main Theme"

Visit the Critical Hit website for upcoming concert dates and more: http://www.criticalhitband.com
Don't forget to follow us on Facebook, Google Plus, and Twitter to receive up to the minute updates from us.
Comments:
Kale on 2013-10-25 13:16:00
Critical Hit's shop page includes a sample player for all of the tracks from vol. 1.

http://criticalhitband.com/shop/critical-hit-cd/