Home > GAME Offering Exclusive A Link Between Worlds Collectors Edition with Chest
GAME Offering Exclusive A Link Between Worlds Collectors Edition with Chest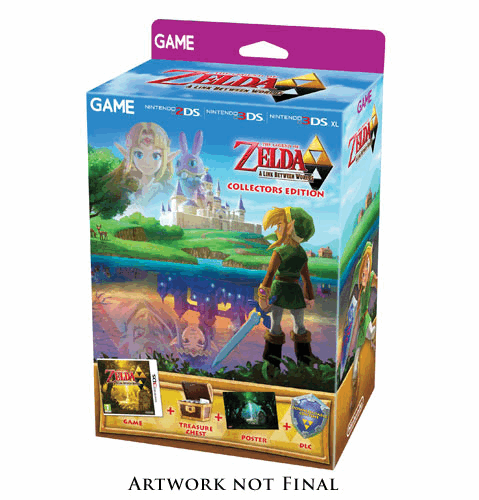 GAME has now clarified the situation around the preorder bonus chest for A Link Between Worlds by announcing the bundle you see pictured above. The GAME exclusive A Link Between Worlds Collectors Edition will include - you guessed it - the music chest as well as a download code for Link's Awakening, a boxed copy of A Link Between Worlds, and a glossy poster. As you can tell from the artwork above - it is subject to change.
Don't forget to follow us on Facebook, Google Plus, and Twitter to receive up to the minute updates from us.
Comments:
I am dissapoint on 2013-10-18 14:17:00
Hold the phone, +DLC? Fuck you, Nintendo, I thought you were better than this, to have day one DLC.

Decimo anonimo on 2013-10-19 07:42:00
Anyone is concerned about Rabio being in the main image? Or im just being paranoid?