Home > Global Legend of Zelda Inspired Art Academy: SketchPad Event Detailed
Global Legend of Zelda Inspired Art Academy: SketchPad Event Detailed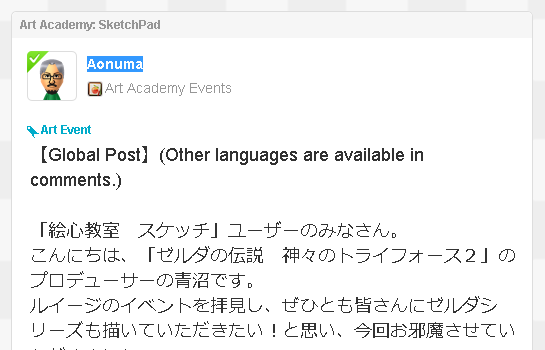 A few days ago we reported about Nintendo UK announcing a drawing event inspired by A Link Between Worlds that would take place on the Art Academy: SketchPad Miiverse community; however, we did not have full details. Well, coming from a Miiverse post from Eiji Aonuma - we now have full details and the event is underway. Check after the break for full details...
Hi, Art Academy SketchPad users! This is Eiji Aonuma, the Producer of the Legend of Zelda: A Link Between Worlds.
I was so impressed by the Luigi Exhibition that I came here to ask you all to post drawings based on the Legend of Zelda series!

For this event, the theme is to draw your favorite characters from the Legend of Zelda: A Link Between Worlds!

Express your creativity by setting characters from the game in your original situations.

Guidelines:
• Pictures must be drawn using Art Academy: SketchPad which is available for purchase in the eShop.
• Pictures must feature at least one character from the Legend of Zelda: A Link Between Worlds.
• Entries are limited to one original work per person.
• Comment on this post to submit your entry.
• Pictures will be chosen based on a rating system that considers skills, artistic expression and creativity.
• The artists whose entries receive the highest rating will be chosen by Nintendo. We may share your drawings outside Miiverse.

Remember, this is a global event, so please avoid using writing in your work.

The event will end on Feb. 16, 2014 or after there are over 1000 comments, whichever comes first. Works that stood out to us will be recognized under the categories of Gold Star, Silver Star, Bronze Star, Aonuma's Favorites, and Art Academy Favorites in this community. Depending on what drawings are submitted, we may add more categories!

Regardless of if you own Art Academy: SketchPad or not, I am also looking forward to seeing your Yeah!s, comments and the names of artists you would like to compliment.

If you need character reference, a link to our Japanese official site is below.
This event is not only about drawing skill but also creativity, so don't be shy and have fun!

Note: If you submit a drawing as a comment to this post, you grant to Nintendo the royalty-free right to publish your drawings online and offline.
Don't forget to follow us on Facebook, Google Plus, and Twitter to receive up to the minute updates from us.