Home > Hyrule Historia Localization: No Information Yet
Hyrule Historia Localization: No Information Yet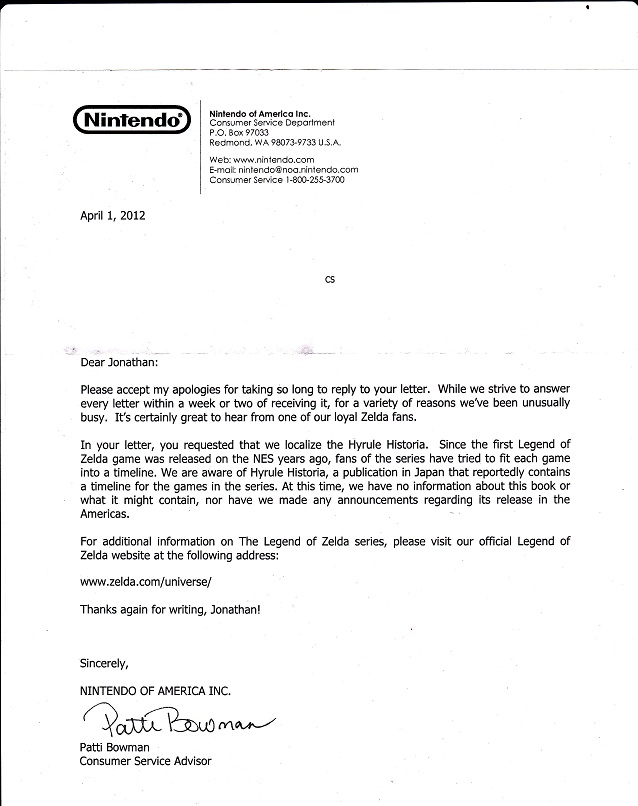 A lot of you will remember when we posted the Official Zelda Timeline from Hyrule Historia a few months back and were wondering about a North American localization. Well, we have word that Nintendo of America has "no information about this book" and have "no announcements regarding its release in the Americas," so does this mean that a localization will not happen? Of course not...but why would Nintendo of America have no information about the book?
Don't forget to follow us on Facebook, Google Plus, and Twitter to receive up to the minute updates from us.
Comments:
Reposiric on 2012-04-09 20:15:00
He "waited so long" to reply so he could reply on April Fools Day. We're totally getting it.

Jimiluis on 2012-04-10 19:17:00
April Fools?

ITSASECRETTOEVERYBODY on 2012-04-10 19:57:00
I hope we don't get it. If it stays in Japan, their timeline is easier to ignore. If you really want to see it, people have translated it. Go look for it, a simple Google search will probably reveal it first link.